Tracking down stored documents and other vital information has become an essential element as well as a necessity for organisations these days. And that can only be a reality with document scanning systems which more and more organisations are increasingly adopting. Gone are the days of searching for crucial information from old worn-out heavy paper documents. Now with digitisation, document scanning systems can convert everything into lightweight digital files that considerably boost the conveniences of operation.
Even though initially, there were speculations of expenses being a factor in digital conversion, the benefits of converting paper documents to digital files have far outweighed that initial reservation and so today going paperless is the ultimate solution.
From
Ø protecting original documents
Ø freeing up office space
Ø making responding to audits easier
Ø improving quality control
Ø sharing and tracking records easier
digitising documents does it all and more.
Research has shown that an employee in the office on average, churns out 10,000 sheets of paper annually. Now, if that's to be stored, an average four-drawer cabinet would be required, which would have considerable expenses involved. Add to it the money that has to be spent for its maintenance. And then again there would be costs incurred due to productivity bottlenecks, while searching for paper files.
But then digitising thousands of documents may not be feasible in-house because even though they seem easy, managing entire projects of scanning requires expertise and experience, which are offered by players who are in this industry for quite some time. In such a scenario, the best possible option is to assign the task to the experts – outsource high-volume scanning projects to a professional document scanning company, like Writer Information. For more than three decades, the organisation has garnered expertise with InfoScan®, an advanced document scanning solution for a high-volume production environment. This process definitely accelerates business processes by capturing data and transforming it into actionable business information.
Here's what you'll for sure gain as you leverage the expertise of a document scanning company:
Saves Time: A dedicated team of professionals who are experienced in document management will ensure the documents are scanned ensuring efficiency and reliability. Scanning can be done seamlessly when equipment do not have to be bought or rented. There is also no need to train employees and that saves considerable time.
Saves Space: Office space can be saved to a great extent when physical documents are digitised. And that only is possible when the work is outsourced and not done in-house. By outsourcing, we can ship all the documents away to a facility, ensuring maximum efficiency in scanning. This will save considerable space in the existing office structure.
Saves Expenses: Though scanners aren't too expensive, the amount of time the employees in an organisation might spend wading through the documents, can detract them from their other more crucial responsibilities — the ones for which they were hired in the first place based on their specialised skill sets. And then again when your documents are in their digital format, employee productivity will certainly get a boost as all the crucial data would be available with the click of a mouse. There is also the option to recoup the amount of leasing onsite storage, which had also taken up prime office space.
Meet Compliance: Companies that focus on document scanning services are aware of industry regulations ensuring compliance. These scanning experts not only convert documents to digital files, but they do so in a manner that rightly satisfies the industry's document requirements. This way the new digital documents will meet the highest standards when it comes to image quality and security.
It's time to devise intelligent technology solutions as well as growth strategies to help your data-driven businesses to scale up and evolve faster than the market.
---
Vasant Pujari – Business Unit Head, Integrated Business Process Services, Writer Information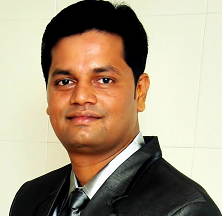 Vasant Pujari is a strategic leader with knack for driving business, building efficient operations, and process automation. He is an astute result-driven professional with a distinctive record of close to 24 years spearheading Profit Centre Management, Service Delivery, and Business Development across diverse sectors such as Information Management & Business Process Services, Warehouse Operations and Logistics Management. He serves as a catalyst in the world of Digital transformation services with prior background in process excellence and project management. He leads the organisation's initiatives in digitisation, business process services which result in continuous improvement in customer experiences and strategic business objectives.
---